Nescafé Frappé
---
---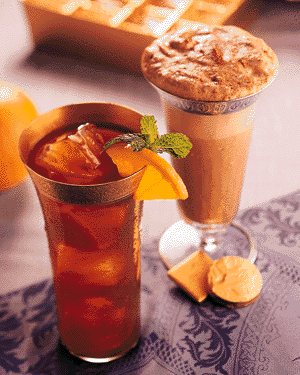 This is kind of a cold instant coffee not known well and very suitable for the hot summer weather. The only image I could find to put here on that page is the one you can see. Frappe is the one in the background. For those that are interested in the first one I should say it is the Café Godiva Sparkling Orange Iced Coffee ...
The following recipe is for a big glass of 250 ml :
Ingredients
1 coffee spoon of Nescafé Classic
1/5 glass (50 ml) cold milk
2/5 glass (200 ml) cold water
sugar to your taste
ice cubes
Alternatively instead of cold milk you can use 2 coffe spoons of Coffee Mate but in this case you should put 250 ml cold water...
Preparation
Place all ingredients into a shaker and shake weel so as foam forms over the mixture. That is a durable foam like that of beer's.
Put the mixture together with the foam in a glass put the ice cubes and some cinnamon or grated chocolated on top...
Put a pipe on the glass and its ready for drink...
Bon apetit.
---