Thessaloniki Style Beans Plaki
---
---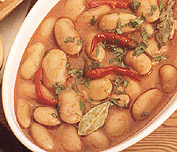 This is a dish, actually an appetizer, suitable for hot summer meals besides a well-done grilled meat, yoghourt, feta cheese, melon, grapes and raki or ouzo. Although plaki is very common to both Turkey and Greece that recipe is from a Thessaloniki style cook-book from Greece. The cooking difference is mainly due to the bay-leaves and mint ingredients...
Malzeme
1/3 kg big haricot beans called "bombay" also
2 big onions
8 big cloves of garlic
3 medium matured tomatoes
1 table spoon dry mint
2 bay leaves
olive oil
some hot red chilli pepper
salt
1/2 table spoon sugar
Pižirme
Soak the beans the previous evening. The next day cook them in your pressure cooker as it is advised and in only water. Then strain the beans but keep their water to use it later.
Chope the onion but not finely. Cut the garlic cloves to 3-4 pieces each. Fry these into the olive oil. Do not peel the tomatos and chope them finely. Add them to the dish and fry them. Put the bay leaves, dry mint, peeper, salt and sugar and cook them until the tomato's water dissaperas.
When the sauce is ready add the beans and some of their cook water you kept aside. Do generous in the water because beans absorbe water not only when they are cooked but also when they are left to rest later on. Cook the dish some 8-10 minutes and turn off the heat...
Serve it cold and as a note here I recomend that almost all the dishes cooked with olive oil should be served after the dish rests at least for half a day. So cook in advance...
Bon appetit.
---