Pythagorion, a place for excellent entertainment
Pythagorion is one of the busiest ports in Aegean as more than two thousand ships sail into it during the summer.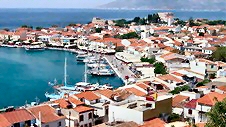 Pythagorion is the most significant tourist-center on the southern side of Samos island. It is a beautiful and picturesque city, full of tourist-facilities and very close to the airport. The city provides for good entertainment as it has plenty of taverns, bars and cafeterias. It was originally called Tigani, the Greek for frying pan that was renamed in 1955 to honour its most famous native son Pythagoras.
The settlement is new and has been built around the 1850. Materials from the ancient buildings have been used to build the new houses. The countless sights prove the intense cultural activity of the past.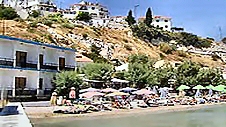 Pythagorion is located on the eastern side of Tigani Bay. In its picturesque port, which is built on the foundations of the ancient port, that was the first artificial port in the Mediterranean Sea, built upon Polykrates' breakwaters which were made of rough rocks. Among these rocks pieces of ancient vases were found.
In summer you can find plenty of boats traveling to the nearby islands (Samiopoula, Agathonisi, Patmos etc) and also to the city of Ephesus in Turkey which used to be one of the greatest ancient Greek cities. The port is one of the busiest ports in Aegean as more than two thousand ships sail into it during the summer.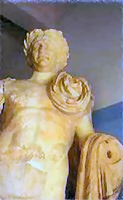 Pythagorion has a very interesting archeological collection of ancient Greek and Roman statues, of famous artist in ancient times. Thee ara also Ionic tombstones and columns, that are fine samples of ancient sculpture. You can find some of them in the town-hall.
Polykrates in the latter half of the 6th century BC with the aid of a gifted engineer named Efplinos and with around 4,000 slaves from the nearby islands ordered some astonishing building works :



A 6km of defensive wall, bristling with 35 towers and 12 gates
A huge harbour still in use today
A 1 km tunnel drilled through the mountain to bring water in and provide a secret escape route out should the city come under siege. The tunnel is very interesting and you can visit it today. Slaves dug from both sides of the mountain to meet bang in the middle, a supreme technical achievement given the primitive tools and lack of scientific equipment at the time.
In summer you can find many events such as : theatrical plays in the ancient theater, concerts, traditional festivities, wine feasts, etc. organised by the municipality of Pythagorion in cooperation with cultural clubs.
April 18, 2009