The Lycian Way
The Lycian way is a 509 km way-marked footpath around the coast of Lycia from Fethiye to Antalya
Lycia is the historical name of the Tekke peninsula on the southern coast of Turkey in the Mediterranean sea. It is a place where steep mountains rise directly from the sea, woody coasts, small but lovely bays mostly accessible by the sea, beautiful views and very suitable for trekking.
The Lycian cities in the history were democratic and their people were of independent nature. They developed a unique art style, and a high standard of living. They absorbed the Greek culture, and later were conquered by the Romans. Their graves and ruins abound on the peninsula and the walk passes many remote historical sites.
The route is a 509 km way-marked footpath around the coast of Lycia from Fethiye to Antalya. The route is graded medium to hard and it is not level walking as it has many ascents and descents especially when it approaches and veers away from the sea. It is easier at the start near Fethiye and gets more difficult as it progresses. It is recommend to walk the route in spring (February-May) or autumn (September-November) as the summer is very hot in the region. The route is mainly over footpaths and mule trails, mostly over limestone and often hard and stony underfoot.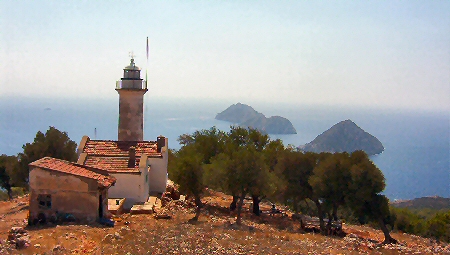 On the first part of the route nearby Fethiye, and later in Patara, Kalkan, Kas, Myra, Finike, Adrasan, Olympos, Cirali and Tekirova, you can stay in pensions or small hotels. On other nights, you may have to stay in a village house, or camp out. There are plenty of camping places with nearby water sources, and in general you do not have to ask permission to camp out.
There are plenty of other activities you might like to try when you walk on the Lycian Way. Some of these are:
SCUBA DIVING at Fethiye, Kalkan, Kas, Adrasan and Antalya, where there are plenty of dive boats for experienced and amateurs.




SEA KAYAKING at Ucagiz, where you can kayak over the sunken city.




PARAGLIDING at Baba Dagi in Fethiye or at Kas where you can dive in tandem with experienced pilots.




CANYONING in the Kibris, Derekoy, Kaputas and Saklikent canyons.
The Sunday Times has listed it as one of the world's top ten walks.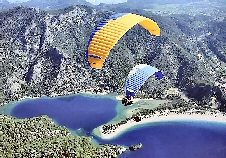 Here are the main stops on the walk:
Olu Deniz, Kabak, Kinik (Xanthos), Akbel, (detour for the Gelemis village and ruins of Patara), Kalkan, Kas (Antiphellos), Ucagiz, Kale, Demre (Myra), Kutluca, Zeytin and Alakilise. Here the trail reaches a height of 1811 meters at Incegeris T. Then on to Belos, Finike, Kumluca, Mavikenic, Karaoz, Adrasan, Olympos, Cirali. Here the trail splits into two :


The Coastal route: Tekirova, Phaselis, Asagikuzdere (just outside Kemer)




The Inland route: Ulupinar, Beycik, Yukari Beycik, Yayla Kuzdere, Gedelme Hisarcandir.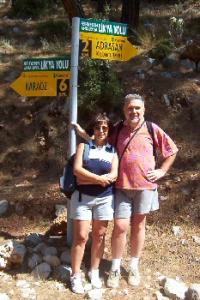 The Lycian Way has been researched by Kate Clow and is continuously being waymarked with red and white stripes (the Grande Randonnee convention) on her efforts and expenses from some sponsors. There are Yellow signboards that will partially tell you much about the rotation and distance, especially in the sections near the habitation. Kate Clow is also organising guided tours on the Lycian Way. Kate has a book on the Lycian way route whose details are constantly updated over the Internet. For more information you can visit the official site of Kate Clow:
This year a new ultra-marathon is being organized on the route, the Lycian Way Marathon LWM2009 which will be the first ultra-marathon in Turkey. It will be an international sportive event, based on high contestation. There will be a total of 250 kilometers to run for 6 days in 6 laps (one lap per day), comprising almost half of the historical Lycian Way. The official ultra-marathon web site where you can register for the event:
http://www.lycianwayultramarathon.com
March 11, 2009