Kaputaş Beach, the Real Turquoise Color in the Mediterranean
Kaputaş is probably the most photographed beach of Turkey
Kaputaş beach is on the Kaş-Kalkan highway in the southwestern Turkey on the Mediterranean sea coast. The beach is on the 7th km after Kalkan and some 20 km before Kaş at a cove running out of an extremely narrow valley of steep cliffs coming down from the Taurus mountains. It is probably the most photographed beach of Turkey. You have probably seen its photo on some poster or elsewhere relating to Turkish tourism as it has been featured in many holiday brochures.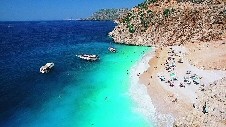 It is a very popular place as the region has an untouched natural beauty and a great view overlooked from the Kaş-Kalkan highway running above, quite high from the sea level. It is also one of the stopping places of the Blue Voyage Yachts. The sea gets deep very short near the beach as it is on the foot of mountains but it is very good for swimming and calm most of the time in the season. The color of the beach as viewed from the Kaş-Kalkan highway above, is a lovely real turquoise. From the beach it is just a short swim to some nearby phosphorescent caves, that are excellent for diving.
There are no cafes or stores for some refreshment to buy so you have to bring water and food yourself. But you may find plenty of street sellers selling ice-cream, water and snacks throughout the day if you prefer to buy from them. There is no shadow unless you bring your own parasol. It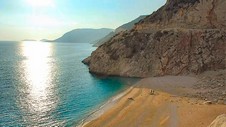 is a good idea to have your beach shoes with you, because the sand is a bit pebbly and very hot under the mediterranean sun. If you look overhead you will often see para-gliders taking in the dramatic views of the coastline.
To reach the beach you can either come with some boat trips you can find at Kalkan, or with your car which you have to park on the roadside on the highway above and walk down some 200 steps and be aware that you'll have to climb back those steps again on your return. You also have the possibility to hop on a "dolmuş" car for Kaputaş either from Kalkan or Kaş.
Kaputaş beach is really a beautiful and unspoilt place and as getting there from Kalkan or Kaş is quite easy, it shouldn't be missed!
February 18, 2009