Ikaria Island a Beauty of Nature in the Aegean Sea
Ikaria is the home of the mythical Ikaros and an island of wild beauty
Ikaria island stands on the Eastern Aegean Sea just to the west of Samos island. It is the home of the mythical Ikaros and an island of wild beauty, that has reached our days almost unspoiled from the effects of civilisation thru the centuries. There is no other island on the Aegean where you can find such breathtaking panoramas, clean mountain air, therapeutic hot springs, truly unspoiled seas and very friendly people. Ikarians are generally unconcerned with the passage of time. They live for today without worrying about tomorrow.
If you are the type that expects luxury Ikaria is not for you, but if you like nature, clean, barren and excellent beaches, sailing, climbing up on mountains, hiking, small villages lost in time, it is the place for you.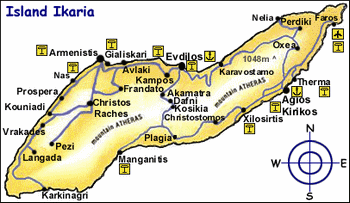 Beaches on the North coast are sandy and more popular, while those in the south are less crowded and mostly rock/pebble in nature. The northern side of the island is covered with green forests and plenty of water, while the southern part is sheer, rugged, and sparsely vegetated.
There are very few Classical, Hellenistic, Roman, and Byzantine period archaeological sites and are free to the public. There are also a few small museums that house objects for the findings of the same periods.
There are not so many places to stay but the few you can find provide a great diversity in price and service, so you can find a place for any type of budget. There are also a few Agro Tourism centers which you can visit or even stay.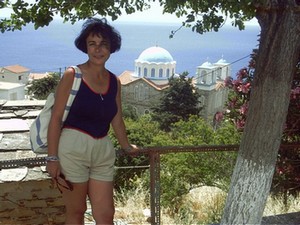 In the south around Agios Kirikos you can find the well known, unique in the world and wonder working therapeutic hot radium mineral springs. Here you can find hotels and public places where you can bath on these hot waters. Evdilos on the North is another port to the island. The ferries call at either of those two ports so be sure to ask about it before you buy your tickets.
Through the history Ikaria has in general been neglected and it was 1912 when it gained independence, but due to the Balkan Wars it was unable to join Greece until November of that year and it remained as a free state for those five months which were the most difficult years in Ikarian history. But lately there was considerable dissatisfaction with the Greek government which invested little in developing Ikaria which remained one of the most backward regions of Greece. In the second World War the German and Italian occupation years were very difficult as well. After the War the majority of the islanders were sympathetic to communism, and the Greek government used the island to exile about 13,000 communists from 1945 to 1949. The quality of life improved after 1960 when the Greek government began to invest in the infrastructure of the islands assisting in the promotion of tourism.
February 3, 2009