Eating and Drinking in the Greek Isles
Eating out in Greece is a national pastime and a leisurely pleasure and Greeks take their time over food.
This is not an article to inform you of quality restaurants but rather to explain you the type of places you can dine while visiting the Greek isles.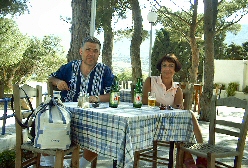 Eating out in Greece is a national pastime and a leisurely pleasure. Whether dining at a local taverna or an elegant restaurant, Greeks take their time over food. The native cuisine is delightfully uncomplicated and quite different from what's found in Greek restaurants abroad. Much of the cooking relies on simple seasonings and fresh meat and vegetables.
Greeks like all the other Mediterraneans go out for dinner much later then the other Europeans and Americans. This is usually a time much after 21:00 o'clock in the evening and usually there is a time where you find only tourists in the tavernas.
For dinner you have the possibility to go for expensive restaurants but personally I prefer to be with the locals in much more simple places and take my time to drink ouzo and if possible the locally produced one. Each island may have its own distillery and if you are lucky the owner may also be producing his very own ouzo or tsipouro which is sometimes called raki or tsikoudia in some of the islands. Ouzo is the one I prefer as it has a delicious fragrance coming out of the added anise or glykanissos as the Greeks call it. Tsipouro doesn't have anise so it lacks this lovely aroma though in many islands locals consume like ouzo. However I like to drink tsipouro after the meal in small shots like the Italian grappa together with mixed fruits.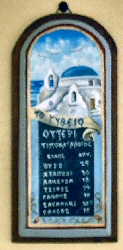 For Greeks it's common to make a lunch of mezedes, or hors d'oeuvres as you may call it otherwise. Typical dishes include fried meatballs, squash balls, octopus, shrimp, squid, cheese, olives, stuffed vine leaves, tzatziki (garlicky yogurt and cucumbers), eggplant dip, small sausages and giant beans most of them cooked in virgin olive oil.
You can find mezedes at an ouzeri, a place serving ouzo, which sometimes may function also as a kafeneion, an old style traditional coffee shop, during the day. Try to find one on the main square of the village so that you can have plenty of things to watch around you and amused.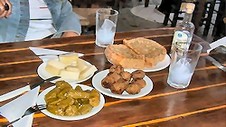 You can find mezedes also at a mezedopolio which is serving locally produced wine or beer but this is a rare case and usually they are open only in daytime. However this is a very common thing in Italy all around Tuscany.
If you want to have a much more formal dinner you have at your disposal the large number or Greek tavernas which serve the same mezedes plus specialties as moussaka (lamb, eggplant and bechamel sauce), kebabs, pastitsio (lamb or goat meat with macaroni and tomatoes), stifado (braised beef with onions) and paidakia (grilled lamb or goat chops). This is my favorite places to dine. I for myself go and ask a local shop or a newspaper seller where the local would go out to dine and ask for the directions.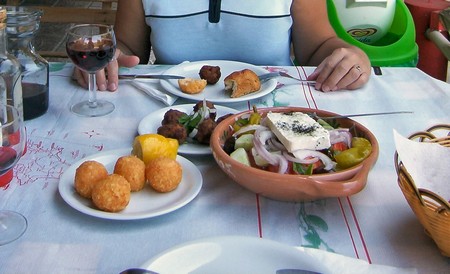 The tavernas serve food on white paper table clothes which usually have a blue sketch of the island's map. So while at dinner you can discuss with your friends which places you have visited during the day or plan your next day's excursion.
Then still there are also the restaurants, which are much more expensive places and they serve dinner on white table clothes.
March 12, 2009