Günlüklü Bay and Beach, Fethiye
The botanical name of Günlük trees is Liquidambar Orientalis and are known for their fragrant gum resin
The real wealth of Fethiye as a summer travel haven is its scenic charm. The sea, mountains and islands come together in an awesome magnificence. The natural vistas of Fethiye alone can lend a special meaning to your summer travel. The sea is a stunning sight at the Sovalye Island and the prominent beaches of Fethiye. The most popular natural attractions include Belcegiz, Oludeniz, Kidril Park, Gemiler Islands, Koturumsu, Katranci Bay, Günlüklü Bay, Oyuktepe, Göcek, Patara and many other beaches.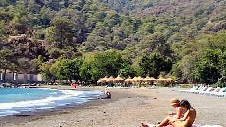 Günlüklü bay is a natural wonder, being 19 kms away to Fethiye on the road to Gocek where an alley branches off to the left which after one km ends up at Günlüklü Bay Anchorage. The anchorage is covered by different and aromatic aqueous amber (styrax) trees. Their branches and leaves in summer are so thick that one cannot see the sky easily. The place is an ideal camping site for the summer which you can reach either by car or sail.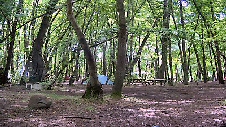 The bay is protected from winds on both sides so the amber trees also called Sigla or Gunluk trees grow here easily and in abundance, and this is how the bay was named after. The botanical name of Günlük trees is Liquidambar Orientalis. They are known as cure for many health problems and are very famous for their fragrant gum resin which is used as incense resin in religious rites, perfumery, and embalming. The trees can grow up to 25-40 m in height and they have a wide top end. At first sight someone can think they are plane trees. As they get older the bark gets darker and deep cracks form on it. This subfamily of trees grow only in this region and the nearby Rhodes island in Greece.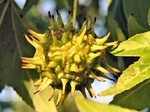 Günlüklü bay is operated as a camping ground by the Department of National Parks and so it is very adequate to put up tent and camp for the evening. Moreover, a boutique holiday village made up of chalets has been buit very recently on the side of the bay. I have not seen the hotel yet but they say it did not harm the nature and beauty of the bay. I hope it is so as they claim.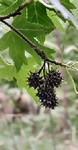 Günlüklü Bay is a place preferred by many local people, especially during the weekend, who come here to picnic and swim in the lovely beach. So on weekend there may be plenty of noise and smoke from fire places. For those who don't like such crowded places many quiet and peaceful inlets can be found around the bay. Alternatively you can visit the place on working days.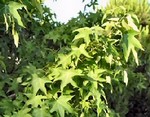 Some of the other natural attractions around Günlüklü bay are Katranci Bay, Oyuktepe coves and Göcek village with its harbour and marina. On the main road towards the Göcek village there is also a natural spring where you can feel your water bottles.
March 3, 2009