Rhodes Island Excurison Programme
I thought it could be a good idea to provide you with a detailed excursion plan of Rhodes island.
I thought it could be a good idea to provide you with a detailed excursion plan if you ever decide to visit Rhodes island, the largest of the Dodecanese islands group in Greece. This is actually the route I followed in Sept 2007 when I visited the island.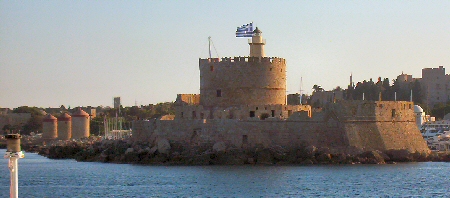 The programme below is a 10 day itinerary, including your arrival and departure days, which you may follow while you will be visiting Rhodes island. You can customize the programme to your own taste and time table. In some future articles I will be explaining to you in detail some of the wonderful places at Rhodes island.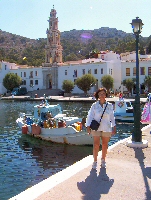 Day 1. Arrival day. After you get your hotel room it is time to reserve your tickets for the nearby islands Symi and possibly Tilos. Then arrange with a rent a car company for some small car which you will use in your excursion. In the evening stroll on the streets of Rhodes' old town and have some nice dinner at a small tavern in one of those streets.
Day 2. If on day one you were able to reserve a ticket to some catamaran for a daily excursion to the nearby lovely Symi island go for it and enjoy your journey.
Day 3. If it is possible do the same for Tilos island, which is the next island after Symi northwards. It's very probable that you will not be here once again, so do not miss the chance. I wasn't lucky enough so I couldn't visit Tylos island.
Day 4. Early in the morning go fetch your car and start your excursion of the island's northwestern quarter.
Your first stop will definitely be at Petaloudes or Butterflies valley, so watch the sign and turn to the left.
Park at the Petaloudes valley entrance and climb all the way up in the valley untill Moni (monastery) Kalopetras. Read the story of the small church while having some Greek coffee there in the yard of the chuch and enjoy the views. Then walk all the way down to fetch your car.
Drive up from the same road to the serene Psinthos village, walk around and rest at the village square, there is some small pond where you can find one or two restaurants around it to lunch.
Then drive back down to the main road and visit the Kamiros ancient place if you want.
A little later you will see a sign left to Salakos village, so turn and drive up to the village. Here there is another valley of petaloudes where you may have a short walk on the signposted track.
Continue driving up to the peak of Mt Profitis Ilias, and have some desert or coffee at Elafos hotel or the nearby Elafaki cafe.
Drive back down to the main road again and a little further you will reach the Kamiros Skala a small port where you may have the possibility to find some boat to Halki island but for this you will need an extra day.
Stay at Kamiros Skala, but beware that there are very few places here. We stayed at Lyros Hotel, which was a good choice and I recommend this small hotel strongly.
If you have time drive with your car to the nearby Kopria beach for a short swim.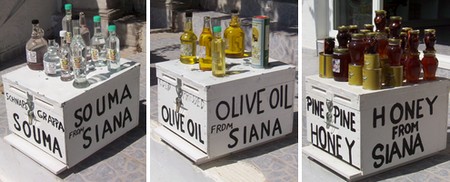 Day 5. Start early in the morning as you will be visiting the south western quarter of Rhodes island
On the main road a little further visit the nearby Kastellos castle and watch over the lovely sea views towards the Halki island.
Then turn left and drive up to the wonderful whitewashed Kritinia village, have your morning coffee there at some traditional kafeneion (coffee shop) looking over to some nice views.
Continue with your car and drive up to Embonas village where you can get your wines and tsipouro if you like it.
After Embonas continue to the south and you will be again on the main road. At your left is Mt Attaviros the highest mountain of the island.
If you see a sign to Ag Isidoros (St Isidoros) village, turn left and have a short stop there for some cold drink. Ag Isidoros is some unspoiled and peaceful village and you will not regret your visit.
Drive back to the main road and shortly you will arrive at Siana village. Here there will probably a lot of tourist busses. Find a place to park and visit the large church and the shop nearby the church where you can taste and buy tsipouro (souma), olive oil, wines, honey etc.
Very close to Siana village is the Castle of Monolithos, drive there and climb up the stairs to the Castle of Monolithos for some lovely views.
On the main road you'll filnd Apollakia village where you can have some late lunch. After Apollakia starts the most deserted part of the island.
A little further there is a turn to the left, that climbs up to Moni Skiadi. Drive to the monastery for its wonderful church with the frescoes, its famous icon, and the serene place with nice views.
Drive up to Kattavia village and find a room to stay there for the night. If you have time drive 10 kms down to Prassonisi Beach where you can swim and even wind surf. You will not regret it especially if it is weekend and is very crowded.
You may dine in one restaurant at Prassonisi Beach or at some street tavern at Kattavia village.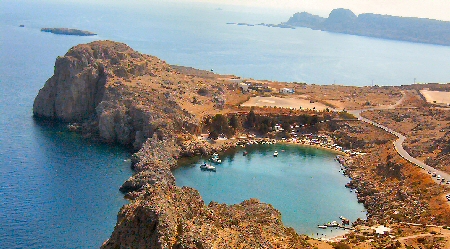 Day 6. Start early for your excursion of the south eastern part of the island.
Your first stop may be Genadi village, walk on the lovely streets, have something to eat from a fournos (bakery) and have a coffee at some local cafe.
Continue on the main road and when you see the sign post for Asklepion village turn left visit the church in the main square, and this little traditional village and have a cold drink at some traditional kafeneion. If you want you may climb up to the Asklepion's Castle as well.
Drive back to the main road and after some time you'ill reach Kiotari village, a little further there is a way up to the mountains for Moni Ag Ipseni
Drive further inland, you will pass Laerma village and reach Moni Thari where there is a lovely spring.
Drive back to the main road and you will shortly reach the crowded touristic villages of Lardos and Pefki.
Then you are at the second touristic place on the island, Lindos village. Leave your car on the free parking place on the main road and walk down to the village. Walk thru the souvenir shops and climb the stairs up to the Acropolis. You may also rent a donkey which may take you up to the Acropolis.
After Lindos there is Haraki beach, where hopefully you can find some room to stay. There are plenty of traditional taverns, pizzerias and restaurants where you can have your dinner. It has a lovely beach but I recommend to you a morning bath.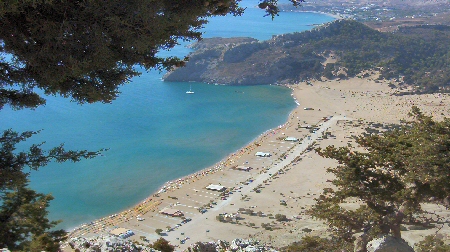 Day 7. This is the last quarter of the island and your last day of your excursion by car.
Nearby Haraki beach is the Castle of Faraklos. Just drive there to see it from the outside as there is nothing interesting inside.
Then come the villages of Agathi, Archangelos and the Stegna Beach, where you may swim.
Just after Stegna beach you will see a sign on the right to Moni Tsambika, a monastery on a high rock. There is a dirty way for your car to drive up to some certain point, but then there are plenty of steps to this tiny monastery. There is nothing special up on the monastery but you will find some great views once you climb up there.
Then there is Tsambika Beach another place to swim.
After some time you will see the turn left to Epta Piges, or seven springs, where you can have a coffee and if you are brave enough to walk thru the underground irigation tunnel.
If you go further in lands you will come to Eleousa village, Platania village and then you'll find yourself at the Church of Ag Nikolaos Foundouklis, which is a very small and very old church, but worth the visit. This place is very close to Elafos hotel you have been two days ago. Both places are on the Mt Profitis Ilias.
Then go back to the main road and you will come to Afantos beach and village, Faliraki beach, and then to Kalithea spas and beach. It may be a good idea to buy a ticket and visit the derelict spas, a building from the second world war.
Shortly after Kalithea spas you will reach Rhodes city and you have finished touring the island. Deliver your car to the office you rented it and rest a few hours at your hotel room. In the evening once again you will be strolling on the old streets of the old city and possibly dine at some lovely tavern.
Day 9. Today its time to visit the old city once again but this time in day light and also visit the museums .
Day 10. Your departure day.
March 18, 2009