Cretan Wedding Bread, a Piece of Art
The aroma of the decorated Cretan wedding bread represents the sweetness of marriage and the love between the bride and groom
Crete is an island of traditions, and is much different than the other parts of Greece. It is a big island and there are many attractions to find just know them in advance and watch-out for them. One of those attractions is certainly the Cretan Wedding tradition and if you happen to come across on a wedding, especially in the villages do not miss it.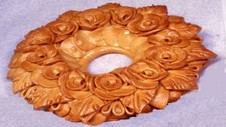 I came across a wedding at Anogia village on the heights of Crete island, where a wedding is some very special event. At that village guests and villagers get dressed up and parade thru the village streets accompanied with live music and they dance all night in the village square. Also there is the after wedding party or feast called glendi which goes on for hours and sometimes days with lots of singing, dancing, lyra music, and eating. And the finale is when everybody goes home with the Wedding Bread, this is a gift from the new couple. Nevertheless the families at that wedding had a recent funeral so there was no wedding feast and much fuss. But for me it was very exciting to seat on a kafenion at the village square right across the church and watch all that crowd. After the church ceremony they did offered bread to the guests but it was not the decorated one I expected. However later I found it at the many fournos or bakeries in Chania city.

We will talk more on the Cretan wedding tradition in another article, but here I will try to tell you more about the beautifully decorated Cretan wedding bread. So one of the things a traditional Cretan wedding includes is the wedding bread. This is a braided bread decorated with dough pieces in the shapes of various objects like leaves, roses or stars and is a real piece of art. The bread may also be decorated with candied and dried fruits and may contain many spices, like cinnamon, coriander, cloves, allspice, anise, nutmeg, ginger, also orange and lemon peels, and almonds are other things adding to its flavor. They say that the aroma of this bread represents the sweetness of marriage and the love between the bride and groom.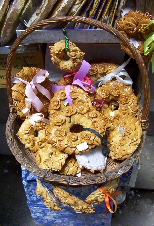 The Greeks, started very early to create many different doughs and from them many varieties of bread. This knowledge was later exported to Rome and the bakers became very famous. As today the bread was prepared and served for special occasions like weddings, engagements, baptism, and also for Easter and Christmas. The bread is also used in ritual occasions in and for the churches. The decorations on the bread are very important, and the taste is usually sweet and nice. Still wedding breads may look different from region to region.
March 2, 2009