Sultaniye Spas, Mud Baths to Care for Your Beauty
Sultaniye thermal springs, Cleopatra's beauty bath secret
Lake Köyceğiz in the south of Turkey, is very close to Dalaman airport, and almost an hour away from both Marmaris and Fethiye, the two of the most important touristic centers of Turkey.
Around Köyceğiz lake you can find many touristic attractions such as the ancient city of Kaunos, the famous beach at İztuzu, the Dalyan village, the labyrinth of the twining channels of Dalyan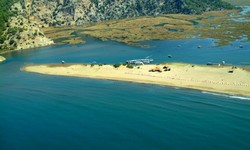 that lead to Kaunos and İztuzu beach, the famous Tombs of Kings on the steep cliffs just opposite the Dalyan village, and the mud baths at Sultaniye kaplıcaları or spas are all within the borders of the quiet Köyceğiz village.
The waters of the lake flow through the channels of Dalyan and eventually they open into the sea between İztuzu beach and the ancient Kaunos city. İztuzu beach is famous for its perfect sand and the Caretta Caretta sea turtles which lay their eggs on this sand. Also in the lake near the area of the channels live the Nile sea turtles (Trionyx Tringulus), not as well known as the Caretta Carettas. Kaunos on the other hand is a Karian city, but because it lies on the Lykian border, bears many of the Lykian characteristics.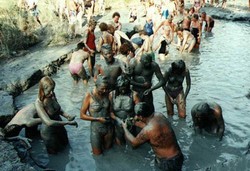 Just at the point where the lake turns into the channels, are the thermal sulphurous springs credited with healing rheumatic and skin diseases and are supposed to have a beautifying effect on your skin. The most famous being the baths at Sultaniye, just 15 minutes from the Köycegiz town centre, have developed into a wellknown tourist attraction. Sultaniye baths are always a colourful and crowded place with tourists, where they get into the mud and have their photos taken. The waters of the spring are around 39° C throughout the whole year.
It is believed that the spas have been first opened by the Kaunos locals, some 2000 years ago. The remains of a hospital in the area is assumed to be a proof for that date. In those old years the spring waters were believed to improve sexual power, and when drunk to cure various internal diseases. It is said that once upon a time even Cleopatra the Egyptian queen came here for her beauty baths.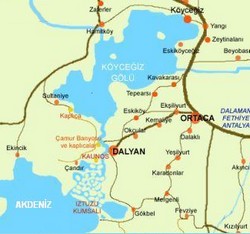 In order to get to Sultaniye baths and the ancient city of Kaunos and İztuzu beach, you can take a daily boat cruise leaving from Köycegiz or Dalyan. If you have a car, you can reach the baths following the signpost on the road to Ekincik village which is also a beautiful beach and an anchoring spot for the Blue Voyagers.
Sultaniye is the most famous of the spas, but there are also others like the "Ali Riza çavuş Girmesi", "Delibey Girmesi", and "Gel Girme Kaplıcaları". In the spas there are rooms which you can rent.
February 8, 2009