Panagia Paraportiani, the Church of Our Lady of the Side Gate
Paraportiani church is the most photographed church of Mykonos
This is one of the most known churches of Mykonos. It is unique because almost everyone knows it. Its photo used to be a logo of Mykonos island and also Greece for a long time. You probably have come across a poster of that church at some Greek travel office. The church is one of the most photographed churches of Mykonos. It is a sloping and whitewashed building looking very interesting as time has contributed to the deterioration and damage of its external look, creating a unique building.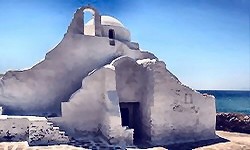 As for its name, the word Paraportiani is an adjective made up of the two Greek words Para = Side and Porta = Gate. It has been called so because the church was built right on the side entrance of the Medieval Castle of Hora town, that is Mykonos' main village. Nevertheless today the castle is not there as many buildings have been built on the place, but just a few remains from the stone walls of the castle can still be seen around the church.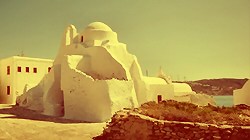 The Castle or Kastro was near the main harbor entrance in the old center of the village. Today you can find the church if you walk to the left of the main harbour after crossing the waterfront full of cafes and taverns. A little further to the left of the church is another well known part of Hora, Little Venice, where Anthony Queen in the movie The Greek Tycoon dances sirtaki. But that's another story.
Actually it is the architecture that makes the church very interesting, because it is an asymmetric building made up of four small other churches on the ground floor and one main church on top of them on the first floor. The four ground level churches are called Aghios Sozontas, Aghii Anargyri, Aghia Anastasia, and Aghios Efstathios. On top of the main church there is a small dome like roof. The upper part is reached by an exterior stone staircase on the east side.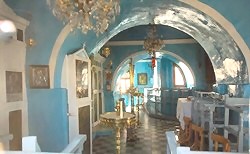 The church has been built gradually on a very long time, starting around the middle of the 15th century and on. So these small churches bring together the four different architectural styles: Byzantine, vernacular, traditional and western style. The interior of the church is not important, but still it is small, colorful and beautiful.
So if you ever go to Mykonos do not miss this unique and lovely small church!
February 11, 2009