Saganaki or Kashar Pane
Always serve warm bringing the saganaki to the table directly from the stove.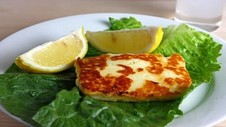 Saganaki is a really tasty of fried cheese snack made in Greek taverns. It can be made from very different cheeses. Any hard cheese like kasseri, kefalotyri, parmesan, gruyere or Greek Cypriot haloumi cheese and even a hard feta cheese can be fried in butter and lemon. When the cheese is fried it takes a really nice texture. The outside is crispy and the inside is warm and chewy. It has a really nice salty and lemony flavour.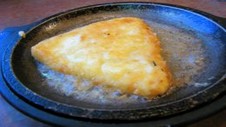 There are many different recipes for saganaki, and the name comes from the small pan, the "saganaki", into which the cheese is being fried.
Some basic recipe is to melt a little bit of butter in a saganaki or nonstick pan. Then add the cheese to the pan and turn the heat down a little and let it cook for 1-2 minutes until it bubbles. This way fry the cheese until golden brown on both sides.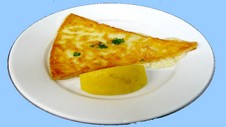 Then you can pour some lemon juice and zest, and remove from heat. If you wish you can add one splash of ouzo together with the lemon juice for some difference in taste. Alternatively you can squize the lemon onto the cheese at the table and add some black pepper. Always serve warm bringing the saganaki to the table directly from the stove or after transferring the cheese into a plate.
In Turkey saganaki is not a common dish or "meze" but instead in some restaurants you can find "kashar pane". Kashar is the same variety as the Greek kasseri. A hard yellow colored, salty cheese.
Some basic recipe ofor kashar pane is to cut the cheese into small square and 0,5 cm thick slices. Then first dip the cheese slices in water, then into flour, then into beaten eggs with milk, and then into bread crumbs and deep fry.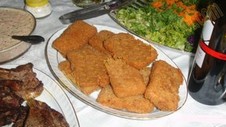 Another alternative could be to soak the pieces into a mixture of milk and beaten eggs. Then roll the pieces well in flour so as to cover all sides with a thick cover. You can soak and flour the pieces once again for a thicker flour cover and fry.
In both cases you fry the pieces in hot olive oil until golden brown before they melt. Always serve warm in a plate with green salad.
Bon apetit !
April 18, 2009