'Dolmadakia' or 'Yaprak Sarma'
Serve hot with yogurt on the side, which is an excellent dip for dolmadakia. .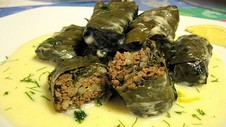 The Greek dish 'Dolmadakia' or the Turkish 'Yaprak Sarma' is one of the lovely and very well known Egean tastes. The Greek word 'Dolmadakia' is actually a form of the Turkish word 'Dolma' meaning stuffed or filled. 'Yaprak Sarma' also means 'leaves wrapping'.
You can use fresh grape leaves, try to find some with thin veins and also have the form that will easily wrap the filling. Wash them very well. Alternatively if you can find pickled leaves in some Mediterranean food store just get them and wash them well. Boil the fresh ones for a few minutes until tender, and the pickled ones for less time. Then rinse them with cold water and they are ready to be used.

For the filling you need the following :
2 medium size onions finely chopped.
2 lb of lean minced beef,
1 cup short grain rice,
4 tbsp dried mint,
1/4 tsp black pepper.
a lemon's juice
Make a mixture of the above and knead well with your hands. It is now time to roll the dolmadakia. Cut the stems of the leaves if any and lay them in the bottom of a pan. You can lay some of the torn leaves also. This will help protect dolmadakia from the heat when cooking.
Rolling the dolmadakia may seem tricky but it is very easy once you get used to it. Lay out a grape leaf on a cutting board or plate, the shiny part facing down so as after you wrap the filling this side will be on the outside. Place a spoonful of the filling on the leaf, right above the point where you cut off the stem. You can add two leaves together to make a bigger one if the leaves are small. Fold in the bottom left and right corner onto the filling and roll the filling forward over the rest of the leaf wrapping it.
After you finish with the filling lay the dolmadakia orderly and pack them side by side in the pan so as they want unwrap while cooking. You have to cook in low heat, and over a long period of time. You can place a small plate on the dolmadakia to keep them down and not let them unwrap.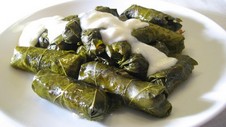 Add few table spoons of olive oil and fill the pan with water up to 1/2 inch above the plate, and let cook for an hour in the lowest setting that still allows the water to boil gently. Turn off the heat, and let the pot cool for a few hours. Remove the plate. Serve hot with yogurt on the side, which is an excellent dip for dolmadakia.
Bon appetit !
April 29, 2009